CHRISTMAS SUPER SALE!
TAKE ADVANTAGE OF OUR LIMITED TIME DISCOUNTS!
We ship within U.S. from Detroit warehouse. All prices are in US dollars.
Enjoy Flat Shipping rate of $5.90!
POLICIES | SHIPPING | PAYMENTS
Beneficial Properties of Pine Nut Oil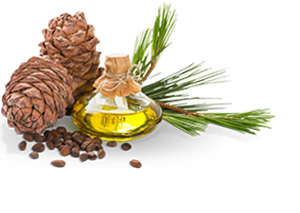 Pine nut oil is a special oil, primarily due to its healing properties, secondly, due to the fact that today there is no possibility to create an analogue of this oil by synthetic means, and thirdly, because it has no contraindications to consuming.
Pine nut oil is easily absorbed by the body of a child, and an adult. It is rich in vitamins, minerals, trace elements and polyunsaturated fatty acids. Pine nut oil is rich in vitamins of groups B and D, normalizing the activity of the central nervous system and improving the blood composition. Its regular use can solve the problem of B-vitamin deficiency.
In the amount of vitamin E per unit weight pine nut oil is several times richer than olive and coconut oils. This vitamin belongs to the group of active antioxidants and reduces the amount of cholesterol in the blood.
In addition, pine nut oil has a very high content of vitamin F - three times more than in fish oil. This vitamin also has the ability to lower cholesterol and strengthen the immune system against respiratory diseases. In addition, vitamin F contributes to lactation in nursing mothers and prevents atherosclerosis.
APPLICATION OF PINE NUT OIL
Laboratory studies have confirmed the effectiveness of pine nut oil for such diseases as:
- respiratory diseases, cold, flu, pharyngitis;
- skin diseases: eczema, psoriasis, burns;
- peptic ulcer and duodenal ulcer;
- leaky gut, hemorrhoids and dysbiosis;
- allergy and autoimmune diseases;
- neurodermatitis;
- metabolic disease;
- alopecia (alopecia), etc.
Pine nut oil has healing properties, accelerates the epithelization of wounds, burns and frostbite. It can have a fortifying effect, improve physical and mental performance. It also helps to cope with chronic fatigue syndrome, improves immunity, improves vision and removes heavy metals, radionuclides and other toxins from the body.
DIRECTIONS FOR USE
Internal use of pine oil: up to 3 times a day 15-30 minutes before meals, a teaspoon each time. The course usually lasts 3 months according to the following scheme: 10 days of admission followed by a 5-day break.
Pine nut oil can be filled with vegetable salads, added to cold and hot snacks, thus you will provide the dish with excellent taste characteristics, and the body with useful and nutrients.
© Copyright: https://www.pinenutoil.info/
---
Raw Wild-Harvested Siberian Pine Nuts in North America!
Watch Video: SIBERIAN PINE NUTS: The World's Best Super Food:
---